At a recent marketing event Justin Verrengia – the self proclaimed hippie Jedi blogger – gave me some words of advice when it comes business, blogging and internet marketing. Why would one heed the advice of a hippie?
The bigger question is how does a hippie Jedi blogger make $191,847 in 15 months with an online affiliate program??
Below is a photo of Justin with a check that shows his total earnings as of January 2013 with the Empower Network program. [His earnings are significantly more as of the writing of this post.]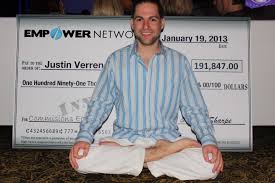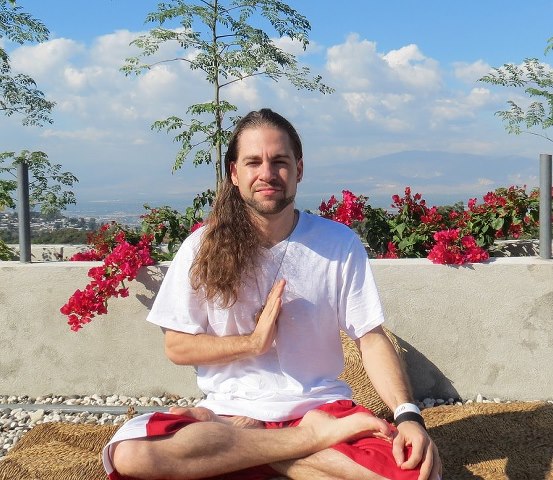 How Did He Do It?
Justin Verrengia will be the first to tell you it wasn't always peaches & cream. He & his wife D now live like jet setters –  with a home in Medellin, Columbia, with frequent visits to locations around the world. But just 3 years ago Justin & D were struggling to pay their $450 rent in Costa Rica. Justin had been in the home based business/network marketing industry for a number of years. He was trying to 'live the life' but was really 'enduring a nightmare.'
He was constantly either a) on the phone closing prospects or b) on the computer trying to figure out how to grow his business online. He admits he would literally work 18 hours per day just to maintain a modest income.
So what changed?
Justin says that a pivotal turning point for him was attending a live internet marketing event called "Don't Be a Wussy" held by Empower Network early 2012. It was the company's first event. At that time, he was still stuck in his old habits, but had a goal of using the Empower Network's blogging & marketing platform to make an extra $5k/month.
While attending that event, here's what shifted for him: BELIEF.
Click Play Below Now to see the Hippie Jedi's belief in action.


Justin says that before that original event, he was conditioned to believe that it required working 18 hours per day and staying on the phone constantly to earn a good living in this industry. But based on the results he was seeing from other people with this blogging system, his beliefs about what it takes to make money changed.
There was a second shift that happened that weekend. It wasn't just Justin's belief in a new way of creating success that changed everything.
It was also the belief in HIMSELF.
Justin frequently attributes his mental shift to conversations with his mentor (Empower Network co-founder) Dave Wood. Wood's belief in Justin spurred belief in himself. As did the belief from his wife D.
And according to Justin BELIEF is the key to all success; No matter what the objective. No matter what your goal….Here's why:
Belief creates action. Action creates results.
Results create more belief. And they cycle continues.
When Justin landed in this productive cycle – he went on to blow his goal of $5k/month out of the water.  As of the writing of this article, Justin is earning $40k+/mo with this system.
It was my pleasure to meet Justin. I love being surrounded by people who push boundaries, challenge the status quo, and un-apologetically live their dreams. To learn more about the Empower Network blogging platform Justin & I both use to create extra income, to connect with people across the world, and create a positive impact, click here.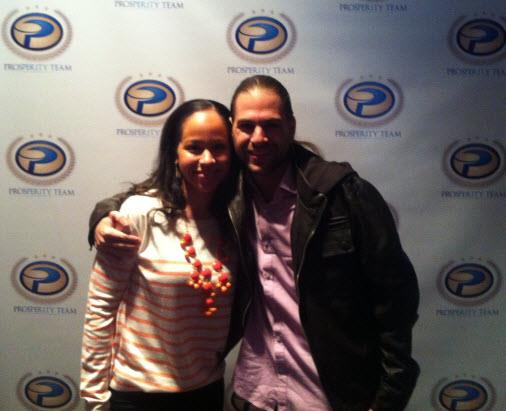 Income Disclaimer: Just because Justin achieved these results doesn't mean others will. Justin closely followed the instructions of his mentor Dave Wood, consistently followed the 8 Core Commitments of the Empower Network business training & as you can see has more belief in his pinkie, then unfortunately most others have in themselves.
The morale of the story from my encounter with a hippie Jedi blogger is to have faith in what you're doing and belief in yourself. Your belief is more powerful than you can imagine.  Thanks for stopping by!
~ Live Life By Design ~
Alice Dymally
P.S. Justin is not the only one having success. Shalonda Gordon has one heck of a story. Check it out here. Enjoy!