There's one huge mistake a see tons of ambitious people make everyday.
They deny themselves the opportunity to be happy & to enjoy life – until they "arrive" – until they reach a certain status, obtain a certain position or reach a particular level of income.
They don't deny themselves intentionally, of course (I used to be one of those people by the way).
They just keep their nose to the grindstone and forget to ever come up for air to enjoy the simple things.
The ironic thing is – it's the little things that create the most meaning in our lives:
Holidays filled with family & laughter, cuddling with our kids to read a bedtime story, dinner out with close friends, enjoying the peaceful serenity of the sunrise and sunset, being a positive force or friendly face in the lives of others…
These are things we can do today.
Yes – Having goals are a must. And being ambitious is engrained in our nature.
However…
Our happiness should not be dependent on whether we achieve a particular goal. Your joy should be internal, instead of reliant on outside factors.
Learn to create peace while in pursuit of your goals and you have already earned your prize.
That is Peace In Pursuit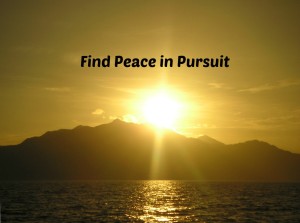 Afterall –  we never should really arrive. Once we accomplish one goal – we simply move on to the next.
Wishing you peace in pursuit,