Read this article before you invest money on the Rich Dad Poor Seminars.
I attended the seminars several years ago and invested a lot of money. I was (and still am) a big fan of Robert Kiyosaki's books and philosphies. Find out in this Rich Dad Poor Dad seminar review whether my investment was worthwhile or not.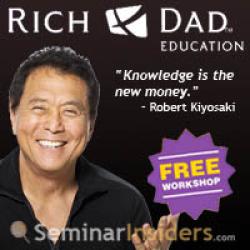 Quick Background on the Rich Dad Poor Dad Seminars
These seminars are hosted in conjunction with the Rich Dad brand, but are actually put together by a company called Tigrent Learning (maybe a different name when you read this post).
There are two "tracks" of the Rich Dad Poor Dad Seminars –Stock Marketing Investing and Real Estate Investing. This Rich Dad Poor Dad Seminar Review is in regards to the Real Estate track.
There are 3 types of the "Rich Dad Poor Dad" Seminars.
         The Free Seminar

          The Initial Paid 3 Day Seminar ($500, ok to bring a guest)

          The Advanced Training Courses ($5000 each, ok to bring a guest)
Summary of the Free Seminar
The Free Seminar is really a precursor/introduction to the initial paid seminar. You've probably seen ads online for the free seminar in your area – or heard about it on the radio like I did. The host of the free seminar will be someone who's had success with real estate & shares their story. They introduce you to the success of other people, and shed light on all the possibilities with real estate investing.
In the end you are offered to purchase the $500 3-day seminar where you will learn more specifics. For $500 you can bring a free guest.
Summary of the Initial Paid 3 Day Seminar
Here are some of the things covered in the Initial Paid 3 Day Seminar:
There is a lot of focus on mindset,
They also cover credit,
 The various types of real estate transactions (for example wholesaling, lease options, short sales, etc).,
The differences between passive & residual income,
 They also discuss quite about how to think outside of the box & come up with resources & capital.
Ultimately I realized they spend so much time on  that last topic so that you'd be able to come up with the funds to pay for the expensive advanced training courses they present at the end of the seminar. Nevertheless, I enjoyed this 3 day seminar quite a bit. I learned a lot, met some great people & had quite a mindset shift. We also played Robert Kiyosaki's Cashflow board game which was lots of fun (& really enlightening….I love it). In summary, I think the initial 3-day course was worth the investment (especially if you split the cost with a guest/partner). When it came to the advanced training though….
I think the advanced training is way overpriced.
It's easy to get wrapped up in the emotion of the weekend. A lot of time is spent tapping into why you want to create a better lifestyle. For some, that might prompt you to splurge on the advanced training – which is what I did. I later regretted it. It's not that the advanced courses don't provided useful information – they do. It's just that I found them overpriced. (In particular because I charged the cost of the courses to a credit card. Arggh!)
What to Expect at the Advanced Real Estate Investment Training Courses
The advanced training courses spend 3 days on one particular topic. For example – 3 days just on wholesaling or 3 days just on lease options, etc. The goal is that at the end of those 3 days you can be comfortable enough to go out & starting doing deals. The advanced courses are not in every city. You may have to do some traveling in order to attend.
I purchased 2 advanced training courses. The first one I attended was in wholesaling. To date, I still have not yet taken the 2nd advanced course.
In summary – while it's extremely important to know what you're doing & invest in your education –  I simply found the "Rich Dad Poor Dad" advanced investment training course just way overpriced.
I've since found other courses that provide you just as much instruction if not more, that completely guide you through the process of a transaction, and are only a fraction of the cost (such as this course for wholesaling).
Rich Dad Poor Dad Seminar Review In A NutShell

Was it worth it or not???
The Free Course? Yes.
The Initial Paid Course? Yes.
The Advanced Training Courses? No.
Rich Dad Poor Dad Seminar Review
This is just my opinion. There next person may have had a different experience & feedback. Hopefully, this Rich Dad Poor Dad Seminar Review has been helpful.
Bonus tip: Rich Dad coaching is actually a completely separate offer – offered directly through Robert Kiyosaki's company. Similar to the advanced training courses, while they do provide you with some valuable training – I think it was way overpriced (in my case $7500). Most of the value is in the training material itself which you can read & review on your own. The "coaching" aspect for me did not provide much value. (You get  a 30 minute call with a "coach" each week for about 7 weeks or so).
Ultimately, it's all good. We live & learn & we keep it moving.
I now have a rental property and I did wholesale two properties. I took a break when I relocated, but am now considering getting started again with wholesaling properties.
 Some Good News…
There are other ways to earn income with a considerably lower investment.
Just browse my site for lots of other ways to make money from home.
Live Life By Design,
Alice Dymally
P.S. If you got ANY value out of this post, click the share buttons on this page now.